Concentration plant
We can call on a specialized expertise in mastering corrosive media and high temperatures. The combination of safe and reliable processes  for concentrating NaOH or KOH based on a unique modular concentrator design fabricated in high purity nickel has defined the state of the art for decades.
Systems producing sodium hydroxide in solid form with a final concentration of 98–99.5% have a great importance, especially in countries where logistics may not permit transport of liquid caustic over long distances or for transport reason. But the markets for potassium hydroxide, to a esser extent, also benefit from the wide-ranging competence of our engineers. Caustic potash concentrated up to 90–95% wt KOH, is mainly produced in the form of flakes. For special requirements and laboratory applications, however, we can also offer NaOH and KOH as pellets.
Our particularly robust and compact flaking machine has an excellent track record in industrial practice. With more than 300 flakers, representing a capacity of more than 5 million tons of flakes produced worldwide, Bertrams is the market leader in the design and supply of concentrating and flaking plants.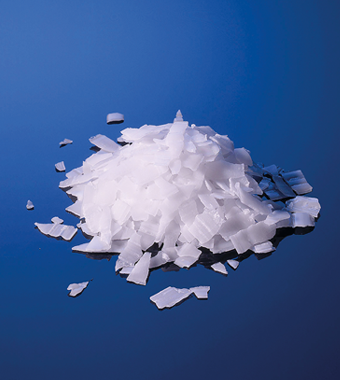 KEY FEATURES
For concentration of up to
98-99%wt NaOH or up to
90-95%wt KOH


Energy-efficient, optimised consumption


High product quality


High reliability thanks to a unique design