Carbonation plant
Our carbonate production plants are a successful process solution for producing potassium carbonate (K2CO3) to be used in the production of crystal and special glass, the potassic salts industry, the inks and pigments industry, in detergents, photographic and food production and in exhaust gas treatment.
Substantial synergies arise for our customers when carbonate systems are combined with caustic or potassium hydroxide concentration and flaking plants. Our technology uses the fluidized bed process to produce an anhydrous, dust-free soda ash or potassium carbonate as a manageable granular product with a high bulk density. The Bertrams process enables the highest purity, the greatest apparent density and the possibility to select the main granulometries (granules, powder) requested on the market, in order to satisfy the most various applications.
The carbon dioxide (CO2) containing gases are generated by burning a fuel with minimum sulfur content or by specially treated desulfurized flue gases from existing heat generation system.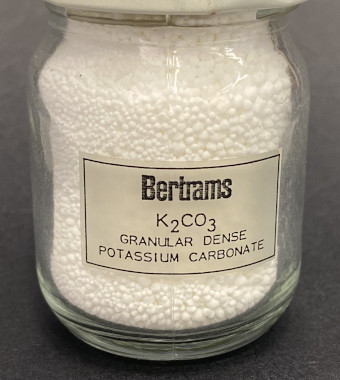 KEY FEATURES
Capacity: 15 - 150 tpd


Density: 1200 - 1300 kg/m3


Granulate size: 0.2 - 3.0 mm


Residual water: 0.1 - 0.5% wt


Product form: dust-free and free-flowing granules